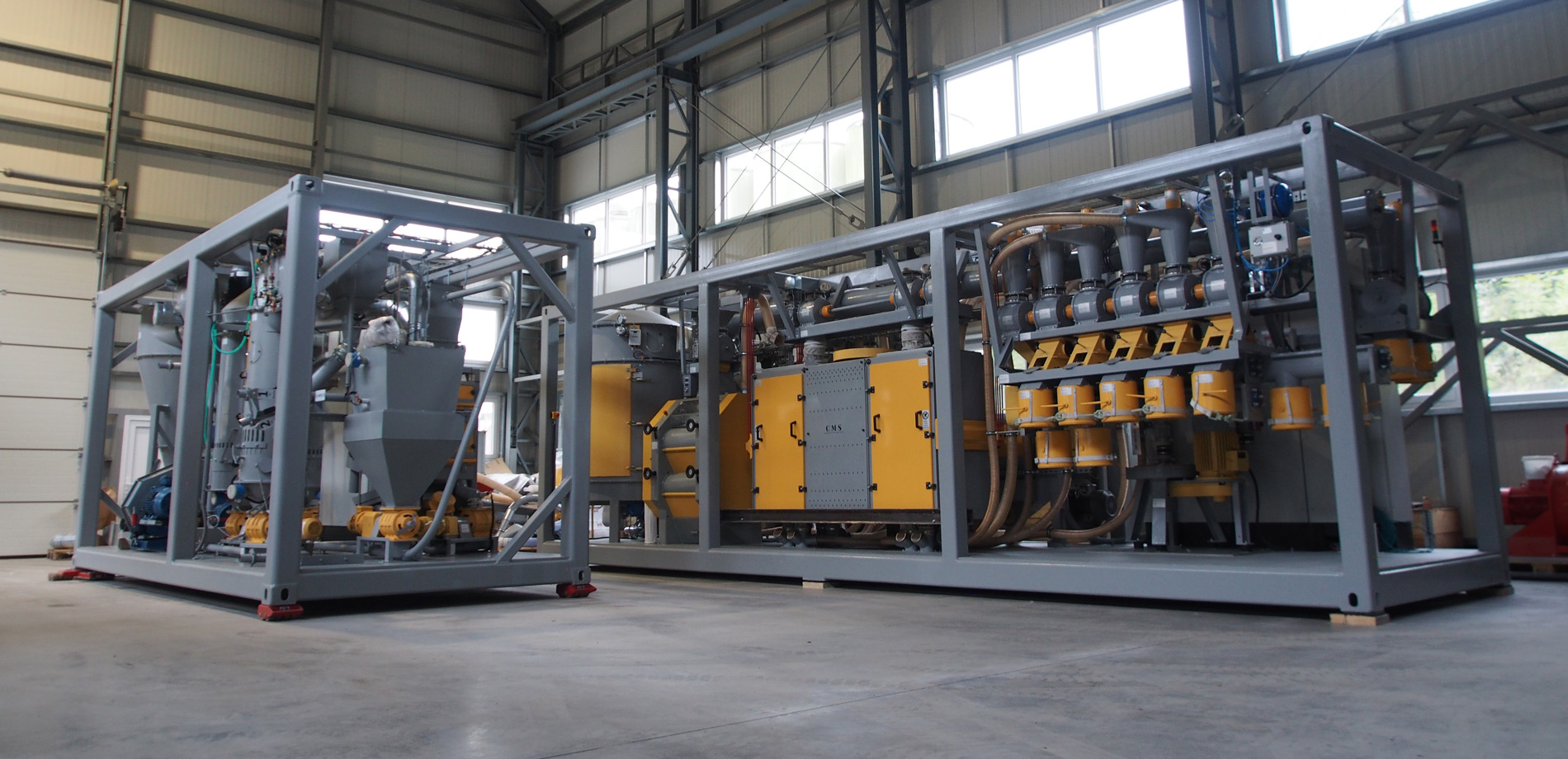 Two essential components enable the processing of grain: a cleaning and a milling section
The cleaning unit for the careful cleaning and damping of allo-cleaned grain and the milling unit contributes to the production of high quality baking flour with yield and ash values in accordance to Mohs.
The five CMS models cover a bandwidth from 8 up to 86 tons process capacity per 24 hours.
Due to the CMS Modular System and depending on the requirements, smaller models can prospectively be upgraded with additional CMS units, if the market demands.
Using CMS plants, you save the space of a whole factory. That means minimum space requirements and maximum efficiency. The compact mills can be easily transported by truck or ship and are ideal for the usage in decentralized food supplying.
The ease with which they can be assembled and dismantled again, also makes them ideal for supplying groups of agricultural operations or large-scale construction projects.
CMS mills are provided completely assembled and ready for operation, minimizing your costs for installation and commissioning.
Intelligent technology shall not be complicated.
The simple, swift and
patented short milling process ensures top quality. Our research mill is the guarantee for our quality
lead – to your advantage.
CMS mills have a standard 20´ high cube container measurement, which simplifies the transport and safes start-up costs. Except a few add-on´s, the system leaves our production sites ready to use.
CMS is mobile!
A mobile mill of CMS has got up to 20to/ 24h milling capacity. Professional experience and expertise guarantee the highest milling quality on wheels! A 13m semi-trailer and a suitable strong truck adapted to the demand in your area are the perfect partner for a mobile CMS.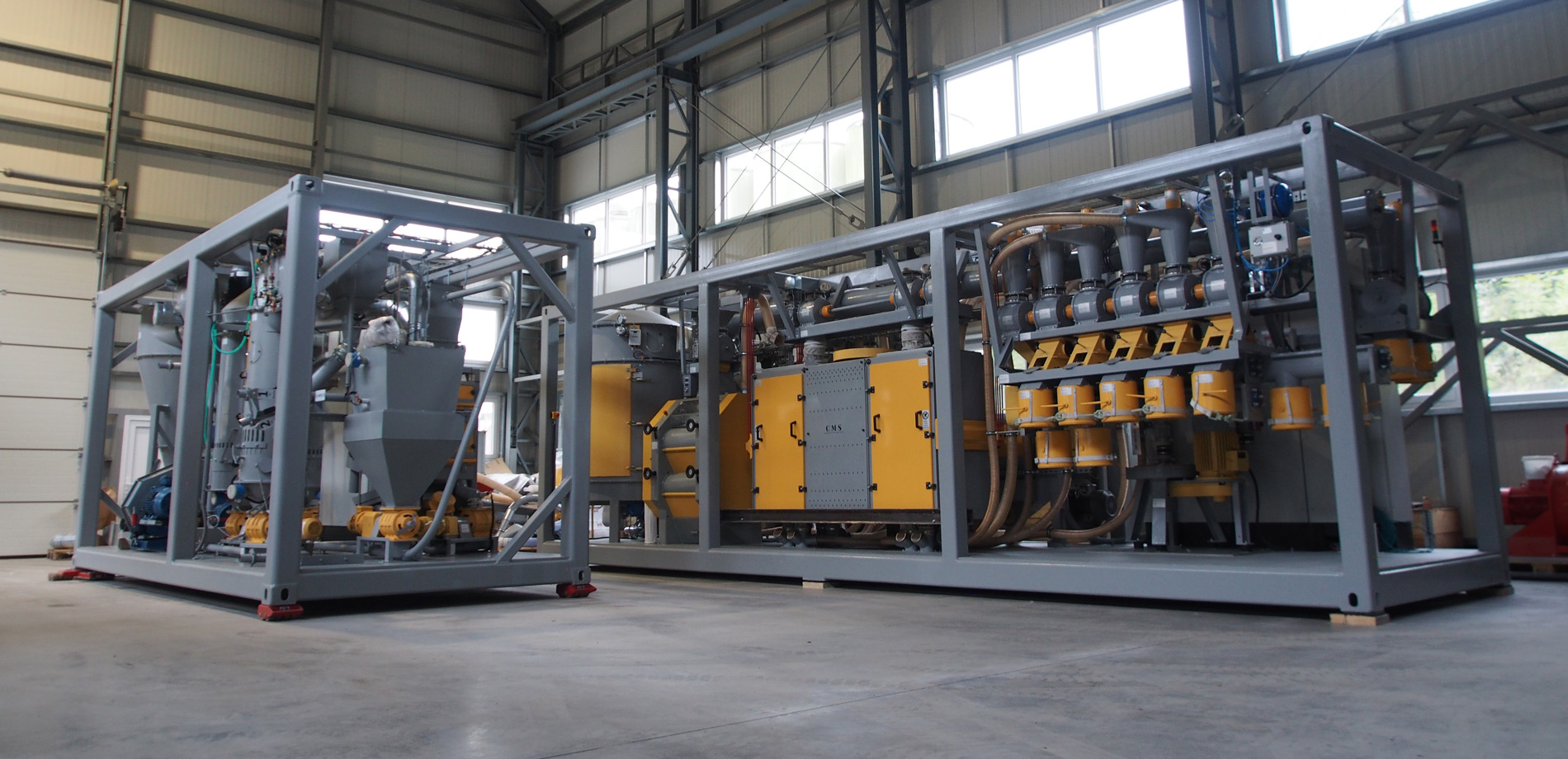 The modularity saves costs by minimizing the risks: starting small and growing with the market.
The "plug-in and mill" system ensures a 100% safe installation and will safe start-up costs.
The compactness saves cost when it comes to transportation and due to the lower space requirements, start-up costs will significantly be decreased, as no multi-level building is necessary.
SIMPLE OPERATION THROUGH
HIGH QUALTITY AND TECHNOLOGY
Years of experience, gaining know-how and steady technical innovation are packed into every CMS
compact milling unit.
From A for after sales service to Z for zoning ordinances for the overall planning of future projects, CMS provides you with refined technological design.
With CMS, high technology does not lead to more complication.
While conventional mills need to be operated and maintained by highly qualified and expensive staff, CMS mills can readily be operated by anyone involved, after brief training in operating, servicing and safety.
The simple operation leads to a minimum of personnel costs, as no highly qualified staff is necessary and training is provided by CMS.
High Austrian quality-level and CE-labeling makes CMS machines and electrical installations leading to a minimum of maintenance costs.
Various grain sorts from around the world, such as wheat, rye, maize, rice or sorghum can be simply processed to flour. We also work with new cereals in our research mill.
A CMS disintegrator with its special milling system makes it possible to deactivate the fat splitting enzymes in the germ bud of the grain kernels, without destroying its vitamins. Due to this method, the valuable germ bud, essential for a healthy nutrition is not being seperated in the CMS milling process and the shelf life of the produced flour is guaranteed for at least nine months.
If you have special requirements, we can develop a perfectly custom-tailored system to make your idea of milling possible. Please fill out the CMS questionnaire.
Costs and time loss can be avoided, due to the easy change-over between rye and wheat milling.
That will save our customers 100% on further investments for additional milling systems.
CMS believes that our customers are looking for a long term investment.
High quality in processing is your assurance. Worldwide.
Rotary seal volume dosing
Electrical control cabinet
Wet peeler seperator I of II
Packing sockets & airlock bench
SAVINGS ON A MULTI-STOREY BUILDING
which is necessary for a roller-mill system compared to a hall with ramp-niveau for a CMS-mill:
> Cost benefits of 50 %
MOUNTING AND ELECTRICAL INSTALLATIONS
The CMS-mill is handed-over to the customer ready for operation. Therefore only very low connection-costs are incurred.
> Cost benefits of 90 %
MAINTENANCE
The CMS-mill consists of easy to operate and mostly maintenance-free machines.
> Cost benefits of 40 %
TRAINING
Due to the simple and straight forward technical and technological solutions a few weeks training is sufficient (as opposed to a several years schooling for the operation of a conventional roller-mill).
> Cost benefits of 70 %
PERSONNEL-COSTS
There is no need for highly qualified millers. Semi-skilled employees can be trained on the job; therefore local personnel can be employed.
> Cost benefits of 50 %
COSTS CAUSED BY IMPROPER OPERATION OF THE MILL
Due to the easy operation of the CMS-mill improper
operation can be almost excluded.
> Cost benefits of 70 %
SAVINGS ON START-UP TIME AND START-UP COSTS
The CMS-mill is test-run in Austria and handed-over to the
customer ready for operation.
> Cost benefits of 70 %
COSTS AND TIME LOSS CAUSED BY THE CHANGE-OVER OF THE MILL
In the case of a roller-mill a much more complicated change-over of the machines is necessary, when switching from wheat- to rye milling (or the other way round).
> Cost benefits of 70 %
SAVINGS ON COSTS FOR ADDITIONAL MILLS
In the case of a conventional roller-mill separate mills are necessary
for the milling of maize, millet or sorghum.
The CMS-mill allows the milling of wheat, rye, barley, maize, millet etc. by one and the same machinery.
> Cost benefits of 100 %
SAVINGS DUE TO THE HIGH QUALITY OF THE MACHINE-BUILDING
CMS-mill: High Austrian quality-level with CE-labelling (= less repairs).
> Cost benefits of 70 %
SAVINGS DUE TO THE HIGH QUALITY OF THE ELECTRICAL INSTALLATIONS, ETC.
CMS-mill: High Austrian quality-level with CE-labeling (= less maintenance and repairs).
> Cost benefits of 70 %
INCREASE IN OUTPUT DUE TO THE OPTIMISED FLOUR-EXTRACTIONS COMPARED TO CONVENTIONAL ROLLER-MILL-SYSTEMS!
Example: At a milling amount of 4000 tons / year, an additional extraction of 5 % flour results in 200 tons more flour than bran.